By Sandra K. Ziebold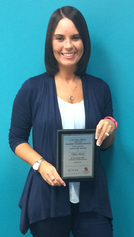 We had the pleasure of attending the Julian Center Judge's Luncheon on Wednesday, April 12th. During the luncheon the Domestic Violence Network presented our Senior Victim Advocate, Tiffany Wilson, with the Baker One Outstanding Advocate award! Tiffany leads our Criminal Justice Advocacy Team serving victims of crime in partnership with our 5 police department partners.

This award is given out to an outstanding advocate that shows consistent exemplary effort in the field of domestic violence or sexual assault advocacy. The advocate has to have demonstrated advocacy efforts working with generally high-risk or unique domestic violence/sexual assault situations. This award recipient must consistently demonstrate the Baker One Project tenets of offender accountability, homicide prevention and victim safety.

It is such an honor to gather with so many wonderful officers, departments, judge's, prosecutors, servant focused individuals and agencies that collaborate and serve domestic violence and sexual assault victims. Victims, survivors and conquerors as the special guest speaker, Officer Ethan Roark, likes to say and referenced in his speech. Officer Roark had wise and wonderful words to share with those in attendance. He is someone that we work with all the time as the partner agency providing advocacy for Southport Police Department and we know first hand his level of passion for making a positive difference in the lives of others.

Great luncheon, wonderful hosts and I couldn't be more proud of Tiffany! She is very deserving of this award!